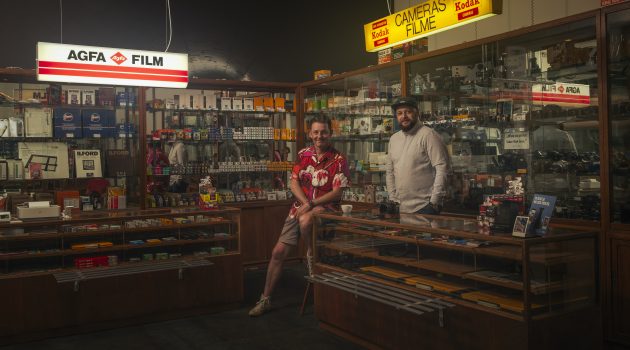 KHROME is fully committed to the new old trend of analogue photography
With the opening of their new shop KHROME in Hamburg's city centre, Anatol Kotte and Oliver Heinemann are now following a hip backward trend: the revival of analogue photography. There, the two professional photographers sell analogue cameras, films and other almost forgotten accessories and treasures from the age of photography that was thought to have passed. "Young people in particular, who have grown up with sophisticated smartphone cameras - quickly pulled out, quickly snapped - are discovering analogue photography for themselves," says Anatol Kotte. "Kids think it's cool to consciously go on a photo tour with a camera around their neck instead of simply enhancing their motifs with filter functions and then uploading them to Instagram in a matter of seconds."
KHROME is not meant to be a traditional photo shop, but a place full of personality that celebrates analogue photography and preserves its value for future generations. That's why the shop includes a studio space, a camera loan service and a lab where films are professionally developed, among other things. "Of course, we also offer to digitise the developed negatives for use on social media. Shooting is analogue, but showing is digital," says Oliver Heinemann.
The two photographers, who spent many years jetting around the world as a team for campaign shoots for well-known brands, have big plans. Their new photo hotspot on Kaiser-Wilhelm-Strasse includes not only the KHROME store and the Capitis Gallery, which opened in September, but also a specialist laboratory and workshop space in the future. The first workshops have started in February 2022 and can be booked via the website www.khrome.de. The concept of workshop-based learning is then to culminate in a program affiliated with the Miami Ad School, among others, at the end of the year.