Photo Contest #shareyourvision22
What is your vision? Do you follow a particular artist? Who or what inspires you in your photography? In the run-up to PHOTOPIA Hamburg, together with our partners @fujifilmemea and @come_to_hamburg, a project of Hamburg Tourismus, and twelve likeable photo enthusiasts, we are launching a big photo competition in twelve exciting categories!
We are looking forward to your photos! Good luck!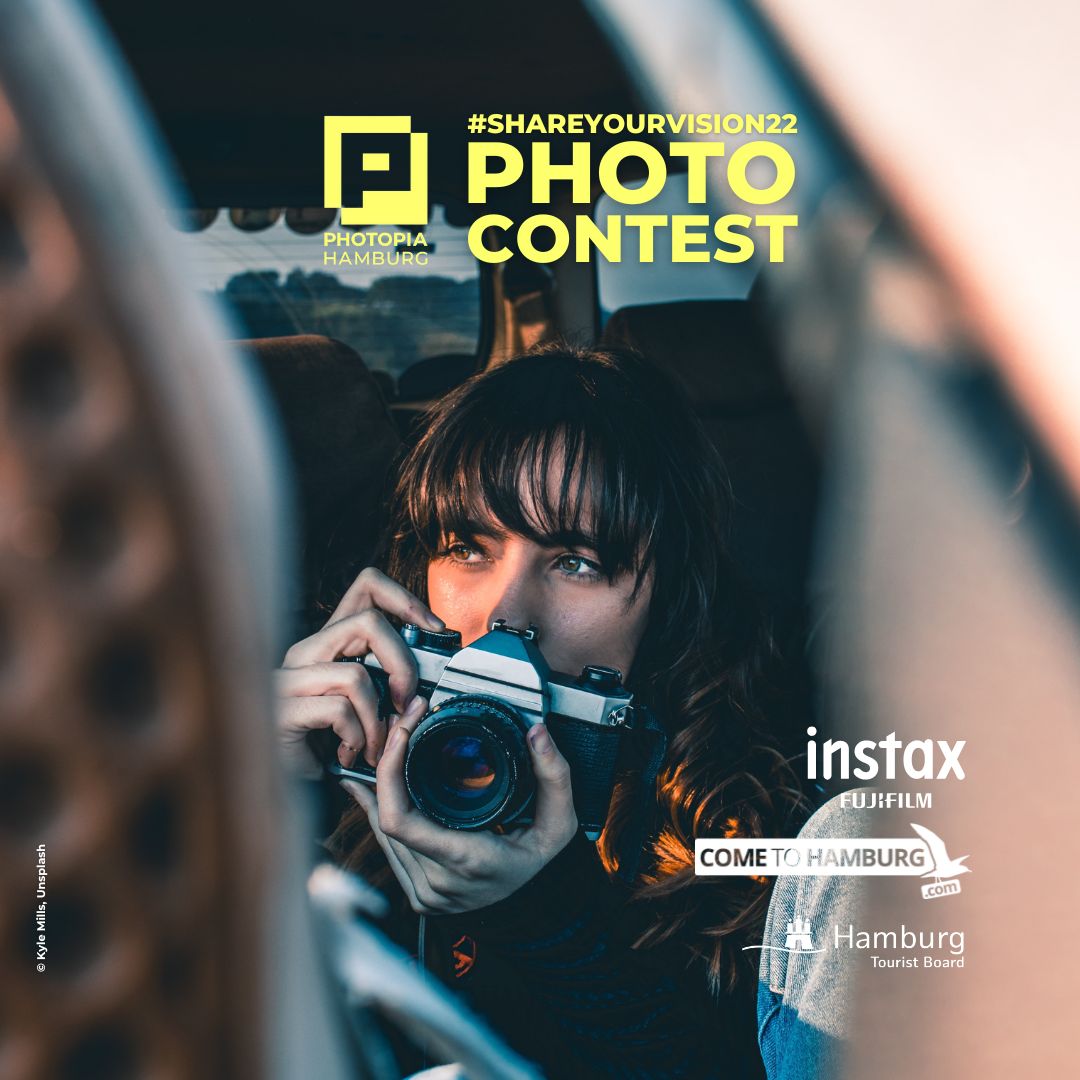 What is there to win?
1st place
Per category the own picture that will be exhibited at PHOTOPIA Hamburg + at a joint kick-off event for the winners' exhibition with all jury members and winners on 13 October at PHOTOPIA
2nd + 3rd place
2x PHOTOPIA Hamburg tickets each
You also have the chance to win a brand new instax mini Evo from @fujifilmemea and two nights in a hotel in Hamburg, sponsored by @come_to_hamburg! These prizes will be raffled between all first place winners!
How does it work?
To enter, please follow @photopia_ham on Instagram and submit your photos to the competition by tagging the images with the general competition hashtag #shareyourvisioncontest22 and #photopia22, as well as the respective category hashtag #photopia22_category!
The winners will be contacted personally.
---
Terms Of Participation And Data Privacy Note
Terms Of Participation And Data Privacy Note
Participation in the Photo Competition organised by Hamburg Messe und Congress GmbH, Messeplatz 1, 20357 Hamburg, Germany (below "Operator") is free and subject exclusively to these Terms of Participation. By submitting a photo, the Participant accepts the following Terms of Participation.
Facebook and Instagram are not connected to this Competition in any way and are neither sponsored nor supported nor organised in any manner or form.
By taking part in the Competition, the owner of the photos agrees to the publication of the photos free of charge for an unlimited period of time on social media channels, newsletters and on the home page of PHOTOPIA Hamburg as well as in an exhibition at PHOTOPIA Hamburg. Beyond the foregoing, the photos will not be used for any advertising purposes. In the event that PHOTOPIA Hamburg 2022 is cancelled, publication at the PHOTOPIA Summit will not take place. No claims may be raised because of this.
The participants assure that he/she can dispose of the aforementioned rights and that the submitted picture originates solely from him/her personally, that he/she has all rights to the submitted picture, that he/she has the unrestricted exploitation rights to all parts of the picture, that the picture is free of third party rights and that no personal rights are violated in the depiction of persons. If one or more persons are recognisably depicted in the photo, the participants must have obtained the consent of the persons concerned. Participants shall indemnify Hamburg Messe und Congress GmbH against any claims by third parties upon first request.
Any information provided will be used exclusively to determine the winner during this Competition. For further information on privacy protection please go here.
The submission deadline is 16 September 2022, 11:59 pm.
The minimum age for participation is 18.
The Participant in the Competition shall be deemed to be the owner of the e-mail address provided when registering for the Competition by creating a profile.
Only one photo per category (12 categories in total) will be entered into the Competition for each Participant, independent of the number of photos submitted.
All photos submitted must have a minimum resolution of 300 dpi.
Employees of Hamburg Messe und Congress GmbH are excluded from participation.
Winners will be notified by text form as a minimum.
Prizes are non-transferable and may not be exchanged for cash. Prizes may not be exchanged or returned. In the unlikely event that a prize is unavailable, Hamburg Messe und Congress GmbH reserves the right to replace it with another prize of equal value at their reasonably exercised discretion.
If a winner fails to make contact within a two-week period following the second notification by the Operator, the prize may be transferred to another participant. In this case, the original Participant shall not be entitled to claim a replacement.
The legal procedure is impossible.