#myfestivalmoment
Photo Contest from 08-23-2021 to 09-05-2021
Every year, photographers capture the most amazing festival moments with their cameras. This year, together with the @reeperbahn_festival and @canon_deutschland, we are giving you the chance to experience the premiere of PHOTOPIA Hamburg live and to spend four days in the photo pit at the legendary #rbf21!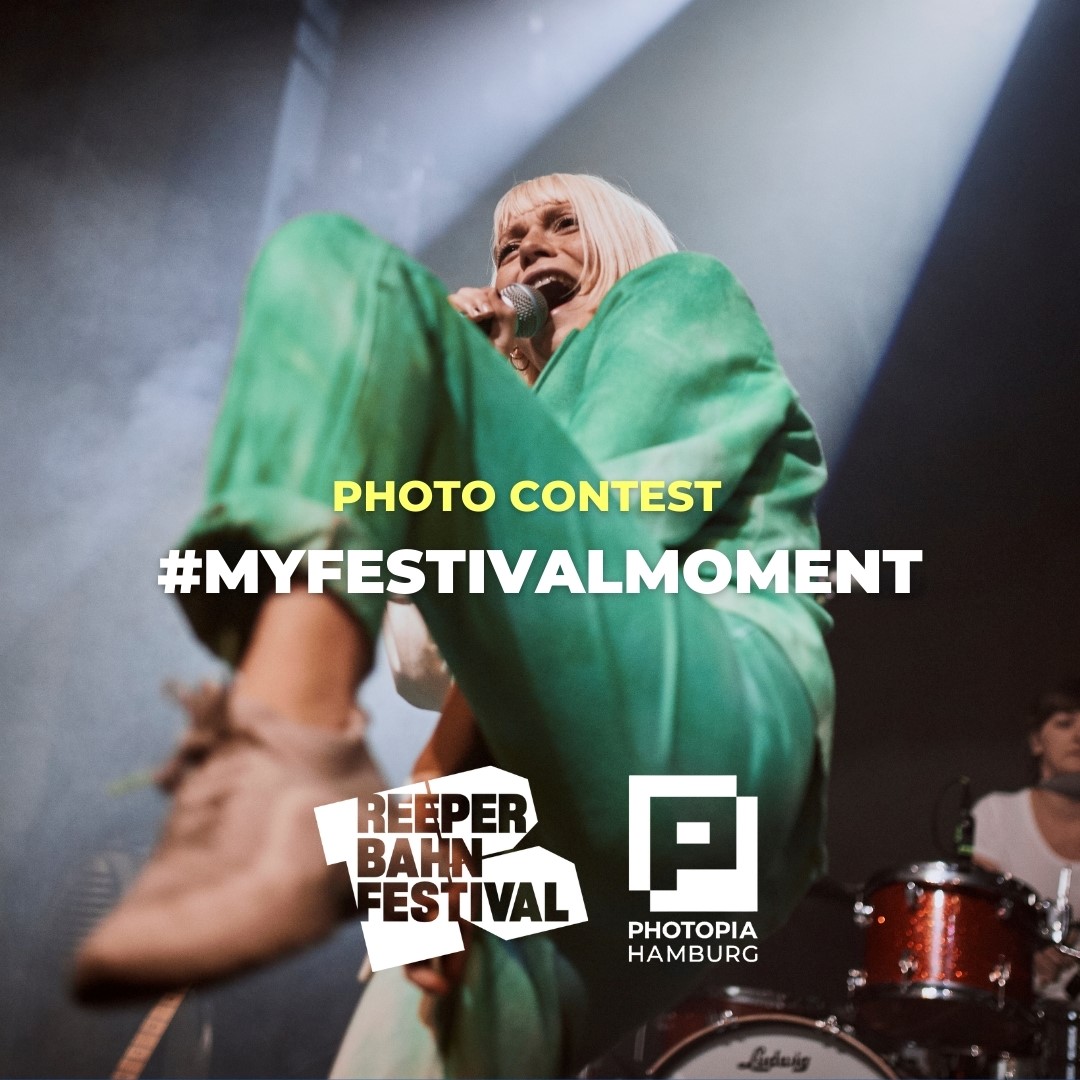 Fantastic prizes await you:
four-day ticket (incl. Photopass) Reeperbahn Festival + Premium Camera Canon PowerShot G7 Mark III (Vlogging Kit) + 2x PHOTOPIA Hamburg tickets
two-day ticket (Fri+Sat) Reeperbahn Festival + Canon instant camera Zoemini S + 2x PHOTOPIA Hamburg tickets
day ticket Saturday (incl. merch package) Reeperbahn Festival + 2x PHOTOPIA Hamburg tickets
- 6. 2x PHOTOPIA Hamburg tickets each
How am I in?
To enter the photo contest, simply post your most beautiful, emotional, or historic festival moments on instagram with the following hashtags: #myfestivalmoment, #photopia, #photopiahamburg, #shareyourvision, #rbf21, #rbfc21, #reeperbahnfestival and follow @photopia_ham as well as @reeperbahn_festival on Insta! Good luck!
Deadline: September 5, 2021. Full details on how to enter can be found here!

On your marks, get set, snap... We are looking forward to your photos!
---
Terms Of Participation and Data Privacy Note
Participation in the Photo Competition organised by Hamburg Messe und Congress GmbH, Messeplatz 1, 20357 Hamburg, Germany (below "Operator") is free and subject exclusively to these Terms of Participation. By submitting a photo, the Participant accepts the following Terms of Participation.
Facebook and Instagram are not connected to this Competition in any way and are neither sponsored nor supported nor organised in any manner or form.

By taking part in the Competition, the owner of the photos agrees to the publication of the photos on social media channels, newsletters and on the home page of PHOTOPIA Hamburg. Beyond the foregoing, the photos will not be used for any advertising purposes.

Any information provided will be used exclusively to determine the winner during this Competition. For further information on privacy protection please go

here

.

The submission deadline is

5 September 2021

, 11:59 pm.

The minimum age for participation is 18.

The Participant in the Competition shall be deemed to be the owner of the e-mail address provided when registering for the Competition by creating a profile.

Only one photo will be entered into the Competition for each Participant, independent of the number of photos submitted.

Employees of Hamburg Messe und Congress GmbH are excluded from participation.

Winners will be notified by text message as a minimum.

Prizes are non-transferable and may not be exchanged for cash.

Prizes may not be exchanged or returned. In the unlikely event that a prize is unavailable, Reeperbahn Festival and PHOTOPIA Hamburg reserve the right to replace it with another prize of equal value at their reasonably exercised discretion.

If a winner fails to make contact within a two-week period following the second notification by the Operator, the prize may be transferred to another participant. In this case, the original Participant shall not be entitled to claim a replacement.

The Competition shall be subject exclusively to the laws of the Federal Republic of Germany. Any disputes arising hereunder shall be settled before a competent Hamburg court of law. There shall be no right to contest the selection of winners before a court of law.